Writer Roger Aplon propels...
his readers on journeys through an amazing variety of voices and places - worlds where men and women love and rage in equal proportions, where social injustice is keenly observed, and momentary observations resonate with profound truths. A fearless and imaginative artist, Aplon finds inspiration everywhere: from the streets of Barcelona, to American politics, to jazz performances, to the complex relationship between men and women. Please come in and enjoy the ride…you never know where it might take you.
---
What's New!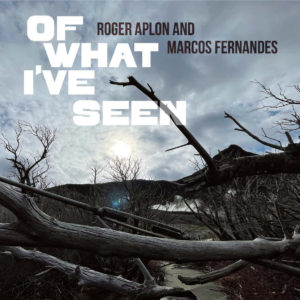 https://marcosfernandes.bandcamp.com/album/of-what-ive-seen
Poet Roger Aplon and musician Marcos Fernandes unveil Of What I've Seen, a powerful and gripping collaborative work. A collection of thirteen of Aplon's poems set to music by Fernandes, the album – both a culmination of their decades-long partnership and a fresh new approach to their creative interplay – engages the listener with its immediacy and its myriad moods. Though living in different continents, the two have managed to create a cohesive narrative and a chronicle of their times. Aplon, a well traveled and well published poet, offers a broad historical perspective and poignant social commentary, stating that the poems "seem to speak about the country I was raised in and the culture I wrestled and still wrestle with. I think the selection serves as a reflection on the times and character that has shaped much of my writing." Fernandes, himself a well traveled and published multi-instrumentalist and soundartist, brings forth his catholic compositional style to sculpt a studied yet spontaneous soundtrack for each poem. With the help of a select group of players expanding his palette, Fernandes conjures up diverse backdrops from beat driven ensemble grooves to abstract improvisations to ambient soundscapes.
credits
released August 26, 2023
Roger Aplon – spoken word
Marcos Fernandes – drums, percussion, Pro-One synth, phonography, ney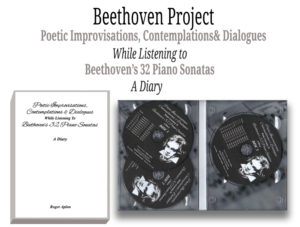 Improvisations, Contemplations & Dialogues While Listening to Beethoven's 32 Piano Sonatas – A Diary

Boxed – 3 cds & Text from Bison Disc 

Also: Check out my interview on writing & teaching:
http://bookmarketingbuzzblog.blogspot.com/2015/04/interview-with-poet-roger-aplon.html
& please take a look at The Art Section: wwwtheartsection.com – there's an adio/visual collection of older & recent poems.